Auto Data Driving Connectivity™
Ferrari – Lamborghini – McLaren – Porsche
Real Market Analytics and Vehicle Histories
We are the Kelley Blue Book™ of supercar values based on the world's largest proprietary database of Ferrari, Lamborghini, McLaren and Porsche vehicles. With 90,000+ VINs and 2+ million VIN specific images on file we are also the historical record of market history on supercar vehicles in North America.
World's Highest Quality, Most Current and Statistically Robust Supercar Market Price and Trend Data

SC Sage Market Data is the Global Proxy for Supercar Values
with Chart and App Data Updated Daily
Get 24 Hour Premium Access to Evaluate 90,000+ Vehicles PLUS One Full Autocheck Report only $4.95!


SC Sage Series Charts (click chart to view)
SC Sage charts are a set of interactive charts which when used in conjunction with the SC Sage apps create the world's most comprehensive view of the today's supercar market. Charts can be generated for any of over 150 Ferrari, Lamborghini, McLaren or Porsche models in the proprietary SC Sage database. Using market data updated daily, from the SC Sage database of over 90,000 VINs, SC Sage charts cannot be replicated by any other source. Timeline and shapshot charts for market price trends and $ per mile are generated using daily updated data. SC Sage charts are the most robust visual analytics available for the world's top marques. Designed for anyone who needs real world, timely deep data and analytics on the world's most expensive vehicles.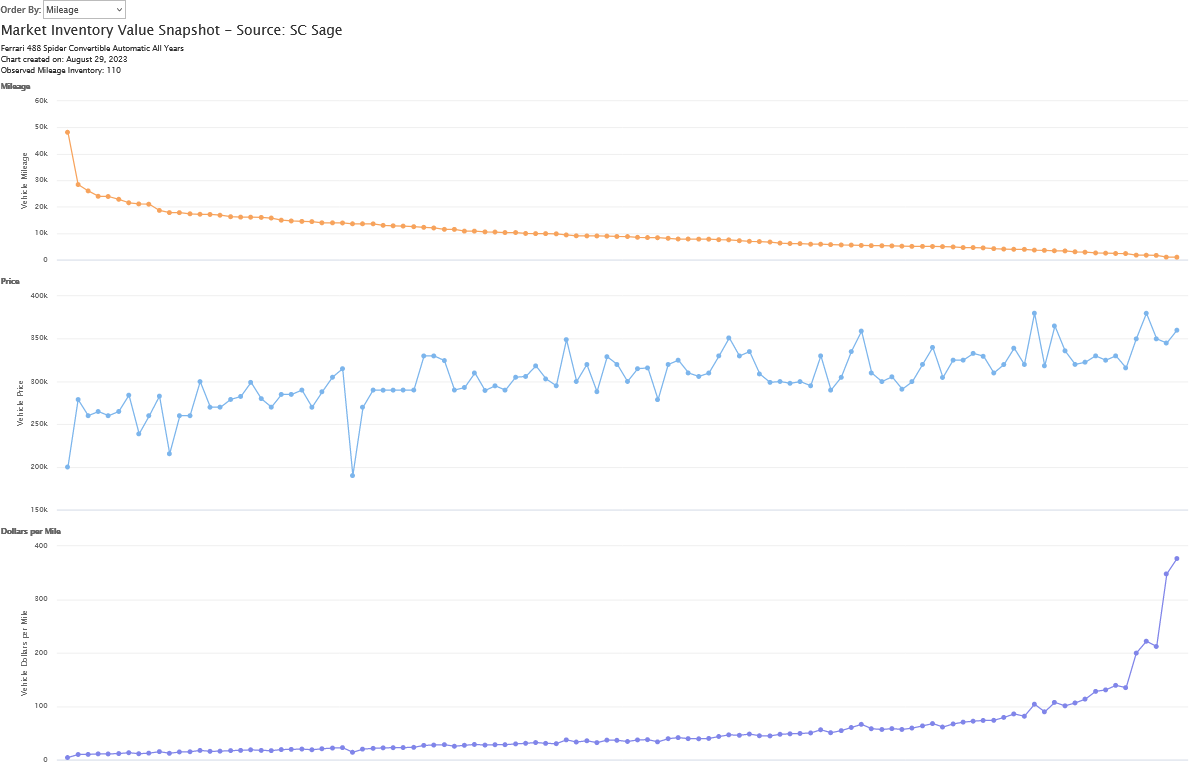 Proprietary Data and Market Histories to Evaluate Every Potential Transaction on 150+ Models
Ferrari, Lamborghini,McLaren, Porsche
SC Sage Apps
SC Sage apps are a set of analytical tools which when used individually, or in combination with each other and our charts, create a thorough understanding of the market for any of over 150 Ferrari, Lamborghini, McLaren or Porsche models in the proprietary SC Sage database. Using data from over 90,000+ VINs, SC Sage apps are the only resources which use daily changes in market inventories and pricing to generate the most current, real market data and statistically robust analytics, for high value vehicle assets – the most expensive inventory in the world.
The SC Sage Vehicle Page App Data and History For Every Vehicle

(scroll the image below to view a sample vehicle data page)

SC Sage Has an App for Every Data Need

Market Values and Inventory, Vehicle Stats and History

Market Value App
(click the image to view a short video on this app)
What are your car's comp values in today's market?
How many are on the market? In my color?
How does the mileage fit into the market?
Is the price over or under the market median price?
What are the market high and low prices?
Market Inventory App
(click the image to view a short video on this app)
Which cars like mine are on the market?
What are the prices of the comp cars?
How can I view all comp cars of any spec?
What are the VINs of the comp cars?
Who is selling the comp cars?
Vehicle Page App
(click the image to view a short video on this app)
How many cars with a VIN's build spec are there?
How long has a VIN been on market?
How has the price changed? Where has it been?
What are the price and mileage comps for a VIN?
Can I see historical images? Get a free Autocheck report?
Valuation Kit App
(click the image to view a short video on this app)
Is the seller's asking price high or low?
How much should I sell my car for?
If I add miles how does that change the market fit?
How does a price change affect the market fit?
What should I offer for a car with these miles?
SC Sage Has a Data Service Level for Every Need
Enthusiasts, Buyers, Sellers, Collectors, Traders, Dealers
2nd Hammer Locator and Transaction Management Service

If We Can't Find it Nobody Can – Owner to Owner
100% Data Driven Service Available to all Premium Subscribers
The only 100% data driven vehicle locator. No middlemen, no layers of hands, no networking – just owner to owner.
Exclusively for Subscribers of SC Sage

Works With any Marque and any VIN

Lowest Transaction Cost for Buyers
If we can't locate it and get it bought nobody can!.
We Locate the Vehicle and its Owner

We Negotiate the Transaction

We Close the Transaction with Escrow.com
Worlds Collections Exclusive Invitation Only Private Trading

See What Other Collectors Own and Make Private Offers

The world's only bona fide private collectors and traders platform. 100% anonymous 100% private 100% secure. Hundreds of collections, all marques and eras, thousands of vehicles all in a private viewing only database.

Exclusively for Subscribers of SC Sage

By Invitation or Application Only

Super Low Transaction Fee
Professonal Market Data and Analytics at Every Level of Subscription