Auto Data Driving Connectivity™
Ferrari, Lamborghini, McLaren and Porsche
Real Market Analytics and Vehicle Histories
Unique Vehicle Marketing Solutions and Platforms

SC Sage is Every Thing You Want to Know
About the Vehicles on the Market and the Market for Them
#1 Market Value App
Pull today's average market price and mileage snapshot for any Marque + Model + Submodel + Body + Year + Country + Transmission + Exterior Color + Interior Color combination in the database. Then use the Market Inventory App to view all of the vehicles matching your selection.

#1 Market Inventory App
Search the database for all vehicles currently on the market meeting any spec using a step through application for any Marque + Model + Submodel + Body + Year + Country + Transmission + Exterior Color + Interior Color combination in the database. Then with one click view each individual vehicle's data, history and images using the Vehicle Page App.

#1 Vehicle History App
Using a NHTSA VIN search the database for specific vehicles and view our database content. Content includes build data and colors, historical market info, current market comps and values, vehicle images and on demand Autocheck reports. We have data and information which you cannot get from any other source or from days of searching the internet.

Hammer World by SuperCar Sage
No Auction Listing Fees – $0/0% Commission
The world's only truly global classified online auction platform serving Ferrari, Lamborghini, McLaren and Porsche vehicles.
Exclusively for Members of SC Sage

Unlimited Free Auction Listing

Listing by Marque, Currency, Vehicle Type, Wanted to Buy
Get real-time SMS inquiries to your inbox.
Automatically Created for Each Listing

Published to All of Our Marketing Channels

Access Continues Even After Listings Expire
Hammer World listings are posted to Ferrari Chat, Lamborghini Chat and McLaren Chat enthusiast forums.
Exposure to 200,000+ global viewers

Listings are fully viewable with no log in required

Highly customized ads are search engine optimized
2nd Hammer Vehicle Locator and Transaction Service

If We Can't Find it Nobody Can – Owner to Owner
The only 100% data driven vehicle locator. No middlemen, no layers of hands, no networking – just owner to owner.
Exclusively for Members of SC Sage

Works With any Marque and any VIN

Lowest Transaction Cost for Buyers
If we can't locate it and get it bought nobody can!.
We Locate the Vehicle and its Owner

We Negotiate the Transaction

We Close the Transaction with Escrow.com
Worlds Collections Exclusive Invitation Only Private Trading

See What Other Collectors Own and Make Private Offers

The world's only bona fide private collectors and traders platform. 100% anonymous 100% private 100% secure. Hundreds of collections, all marques and eras, thousands of vehicles all in a private viewing only database.

Exclusively for Members of SC Sage

By Invitation or Application Only

Super Low Transaction Fee
SC Sage Has a Membership Level for Every Need
Enthusiasts, Buyers, Sellers, Collectors, Traders, Dealers
Access the SC Sage database for Ferrari, Lamborghini, McLaren or Porsche vehicles including colors and build specifications.
Access 80,000+ vehicles by VIN or specification

View pulled Autocheck reports

Get Daily Market Update reports as vehicles hit the market
Access 80k+ vehicle histories and real market valuation data on 150+ models plus access 1+ million images by VIN or spec.
Daily updated real market values


Market price and mileage histories

Hammer World access to bid on auction listings

Vehicle Locator add on service access

Access everything in the SC Sage database and get full access to all SC Sage add on services.
Search the database for vehicles and histories

Pull market values and market inventories by build spec

Hammer World access to bid or list

Pull Autocheck reports on 80k+ vehicles

Access everything in Premium Plus at a signicant discount!
SuperCar Sage database and Autocheck reports


Access to everything in Hammer World

Access Vehicle Locator and 2nd Hammer services

Add your collection to the Worlds Collections repository
An Incredible Array of Apps and Features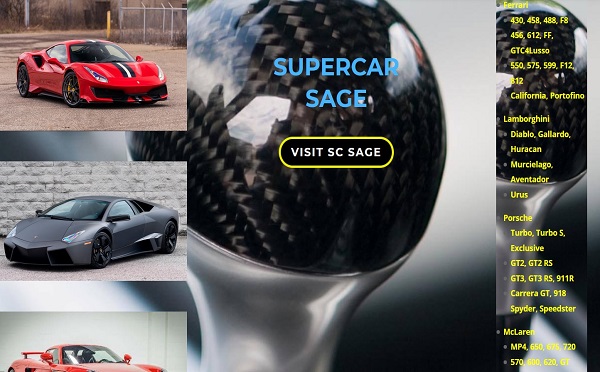 Data
SC Sage is the only truly independent resource for real market data on Ferrari, Lamborghini, McLaren and Porsche.
We are the only data provider that collects source data by VIN matching.
Comps
Daily updated data makes us the only source for 'real-time' market comps.
We track daily market averages for price allowing for historical comps and analysis of market direction.
Analytics
Source independence makes us the only source for unbiased market analytics.
Our micro level data is used to establish values by collectors, buyers, sellers, media and enthusiasts.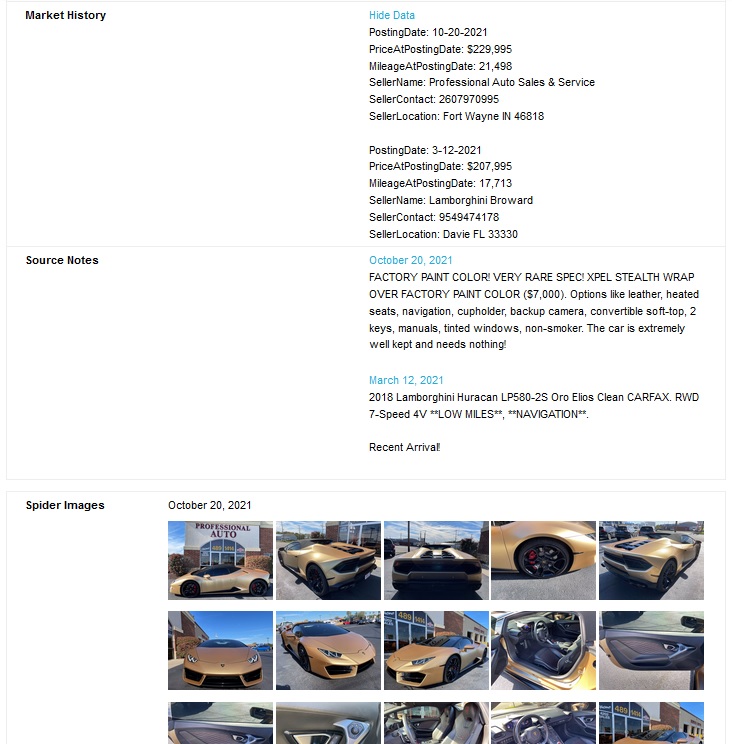 Historical Vehicle Prices & Images
Parser
We operate the world's only intelligent VIN parser for Ferrari, Lamborghini, McLaren and Porsche to organically grow our database.
Our VIN specific data is so frequently used for vehicle pricing that it influences the markets.
Assets
We pull assets such as images and seller indentification and contact data.
Assets in our database augment build, color, modification and condition tracking at the micro level.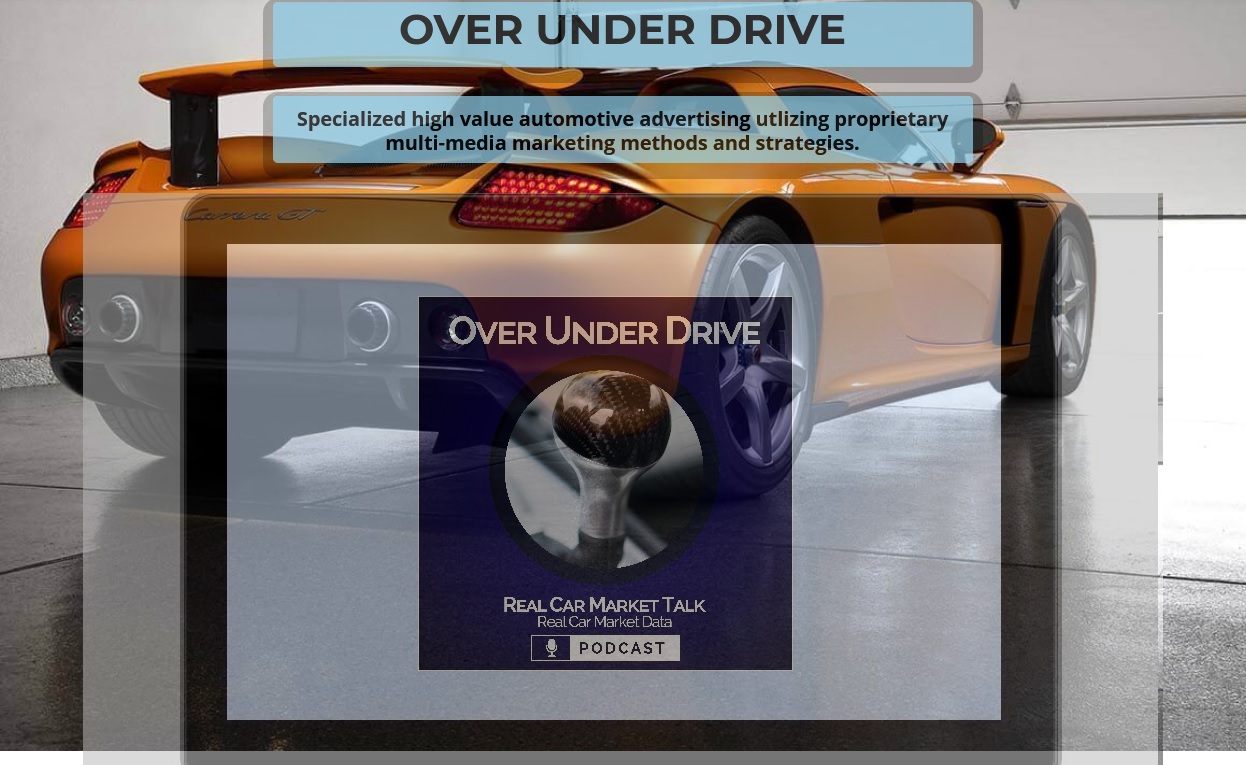 Apps
We develop highly sophisticated apps to allow for simple web access to our data backend and analytics generator.
A common code infrastructure and a centralized database allows us to offer access at extremely low price points.
AutoCheck
We are uniquely authorized to provide VIN matched AutoCheck reports.
No other data provider is augmented by on demand AutoCheck reports from Experian via Fast Link.
Reports
We generate a variety of daily reports which we deliver to your email inbox.
Our reports provide key vehicle data and market snapshots with direct links to target vehicle pages.
Daily Market Check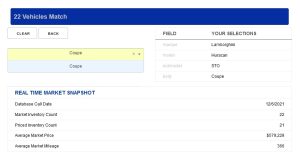 Over 150 models – prices updated daily.
What is the market today?
VIN Check
Over 70,000 VINs growing daily.
Is your VIN in our database?
Vehicle Page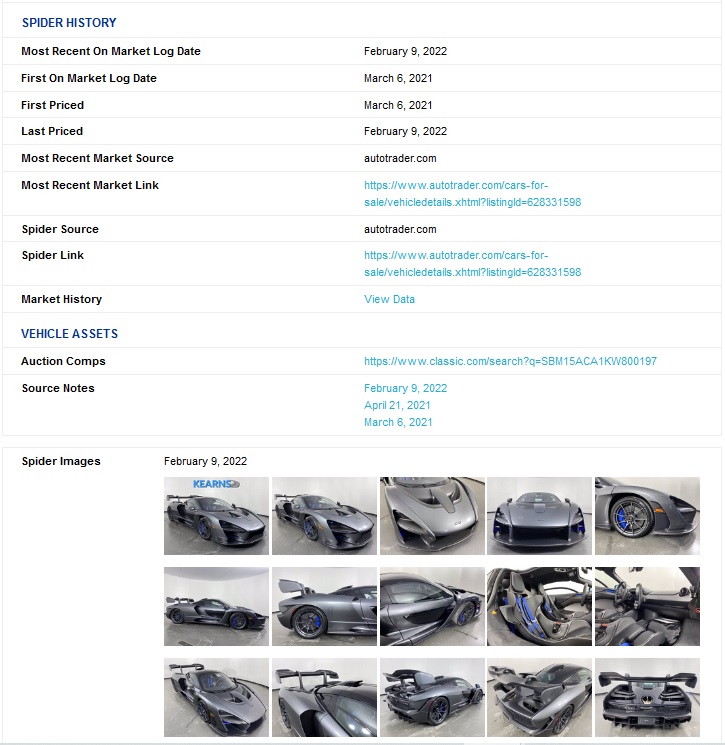 All the details on cars in the database
Do you want to see your car's data?
Database Search
Find specific car builds in our database.
Want to see the cars like yours?